Best FX Networks is a Forex expert advisor that claims to be one of the best automated trading systems on the market. It is a fully-automated system that is easy to set up and works with most brokerage firms. In this Best FX Networks review, we will determine whether this is a wise investment option for 2022.
Best FX Networks Review: to trust or not to trust?
This is an affordable expert advisor supported by verified trading statistics and backtests. However, it has a very short trading history. We have very little information on the parent company and there are no authentic user reviews on third-party websites.
Features
This robot was launched in 2020. It avoids using risky strategies like averaging or scalping. You don't need to disconnect the robot when there is a major news release. It is possible to run the robot on different types of accounts like Cent, Micro, STP, and ECN. It can automatically adjust the risk based on the total assets.
The vendor offers 24/7 support for all customers. On the official website, there is an email address for the support team. Best FX Networks uses a neural network model. It consists of several processing units connected together by weighted probabilities. This model mimics the human brain in the way it functions and learns.
The EA has advanced algorithms for opening and closing trades and it does not require manual intervention. It analyzes both fundamental and technical factors while analyzing the market. Thus, it can find patterns to predict the future price movements. Best FX Networks has money-management features that are adjusted based on your risk tolerance.
There are three pricing plans for this expert advisor, namely Business, Standard, and Premium. The difference between these plans is the number of trading accounts you can use with them. For the Business plan, you can use one real and one demo account for $129. The Standard and Premium plans let you use two and three real and demo accounts in exchange for $149 and $169, respectively. There is a 30-day money-back guarantee offered by the vendor, but you can ask for a refund only if the drawdown exceeds 50%.
Verified trading results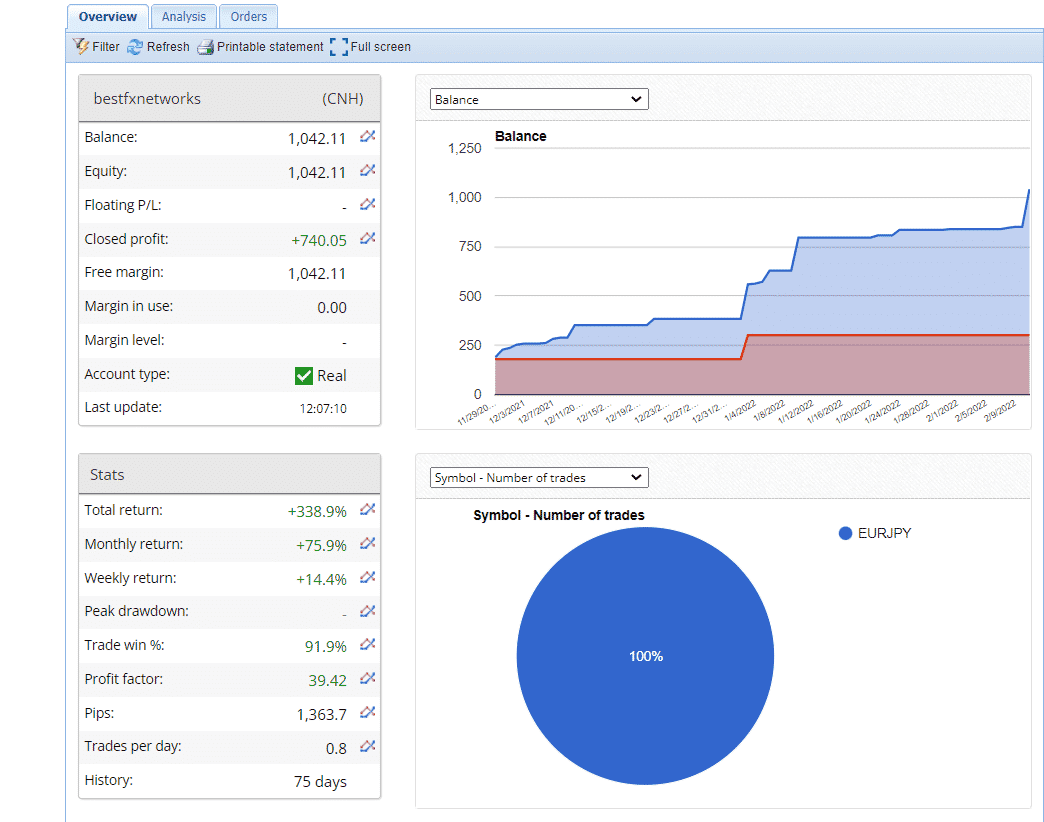 Here we have a verified live trading account on FXBlue. This account has a trading history of 75 days, which means it hasn't been exposed to different market conditions. After conducting 62 trades, its win rate currently stands at 91.9%. By maintaining such a high win rate, it has been able to generate a profit of ¥740.05.
This account has experienced a growth of 338.9% since it was launched. The daily, weekly, and monthly returns for this account are 2.73%, 14.39%, and 75.90%, respectively. It has a very high profit factor of 39.42.
Here you can see the recent trades placed through this account. We can see that the robot generates profits at a steady rate. It does not conduct too many trades on a single day and sometimes it might skip trading on days when the market conditions are not ideal. The average trade length is 35.4 hours, while the average win and loss are 13.32 and -3.85, respectively.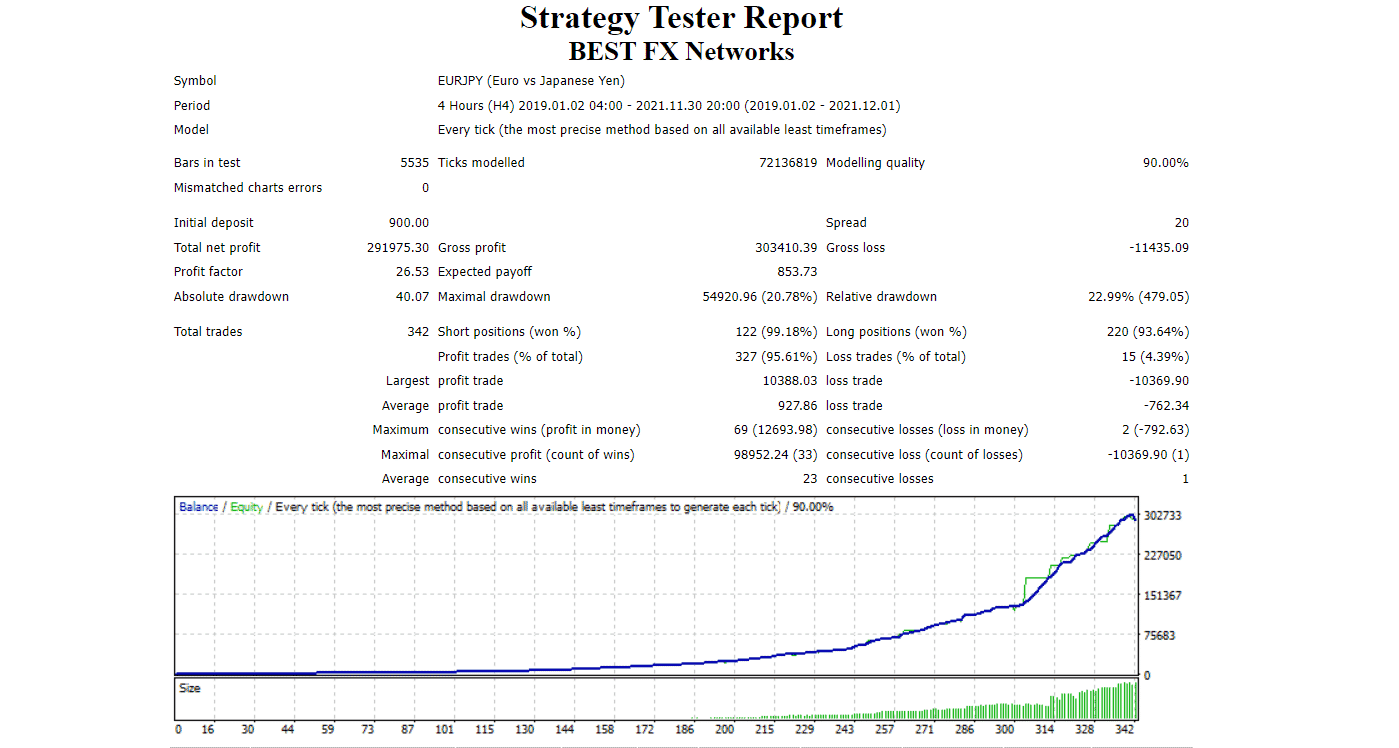 For this backtest, the EA conducted 342 trades between 2019 and 2021. It won 95.61% of these trades, thus generating a profit of $291975.30. The win rate was even higher compared to the backtest, but the profit factor was comparatively lower at 26.53. There were 69 maximum consecutive wins and 2 maximum consecutive losses for the testing period. The drawdown was slightly high at 22.99%, indicating a risky strategy.
Vendor transparency
There is zero information on the parent company behind this EA. We don't know when the company was founded or where it is located. The vendor has not revealed the identities of the traders and developers. Also, it is unclear whether this team has built other automated trading systems in the past.
Customer reviews
At this moment, there are no user reviews for this expert advisor on trusted third-party websites. This tells us that there are not many traders who are using this system to conduct trades in the live market.