Non-fungible tokens are taking over the digital realm amid the race to digitize real-world objects. The market cap for such items has reached record highs of $40 billion and is still growing. NFT marketplaces have since cropped up, providing platforms whereby people can buy and sell their digitized art, music, and pictures, among other collectibles.
Whereas there are dozens of marketplaces for such items, some stand out as the Amazon of the emerging digital realm. While selecting an NFT marketplace, it is important to settle on a reputable platform that only deals in legit NFTs. The cost of listing and transacting items should also be reasonable and competitive.
OpenSea
OpenSea is arguably one of the biggest non-fungible token marketplaces compatible with the Ethereum blockchain and Ether. It is home to the largest pool of asset collection, providing a perfect base for buying NFTs across all categories. It stands out partly because of the high trading volume, having taken NFT trading mainstream, and attracted over 1 million users.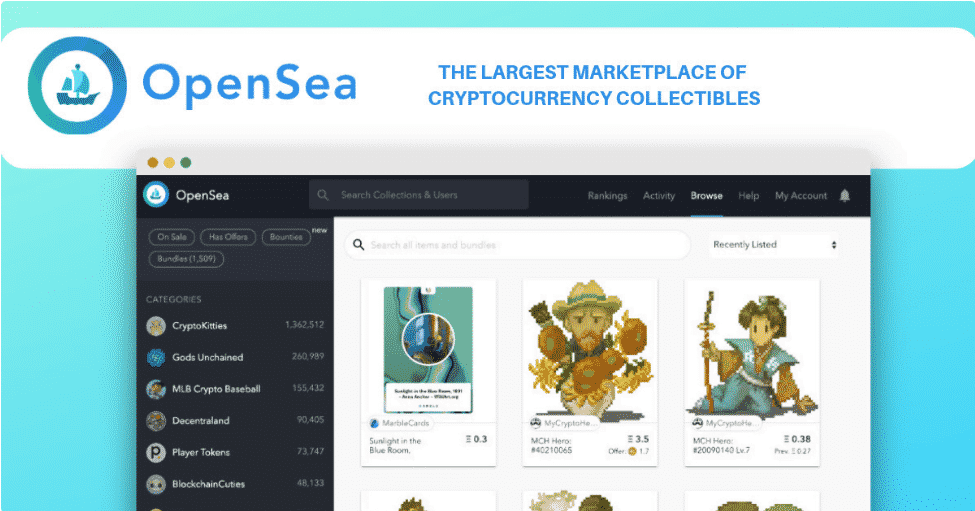 Built on top of the Ethereum blockchain, it is home to a large pool of NFT assets around art, domain names, photography, game items, and music. In addition to a wide collection, it also supports over 150 cryptocurrencies as a payment method making it easy to buy and sell. It comes with some of the lowest fees. It charges a 2.5% fee whenever an item is sold on the platform.
Rarible
Rarible is one of the largest NFT marketplaces running on the Ethereum blockchain. It provides a platform where people can buy and sell NFTs made up of various art, games, music, and metaverse items. In addition to supporting items built on top of the Ethereum blockchain, it also supports other chains, including Flow and Tezos.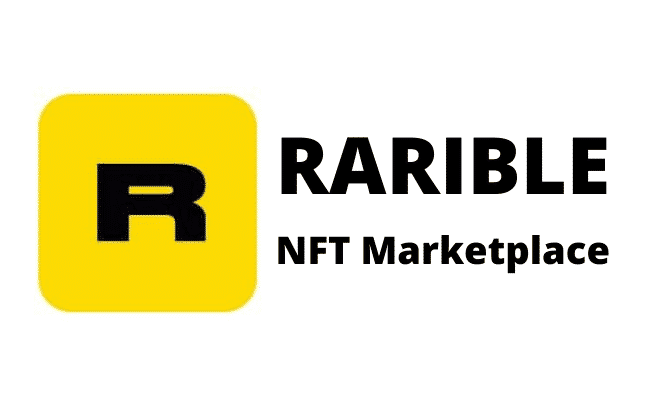 There are over 400,000 NFT items that people can buy on the platform, boasting a trading volume of over $390,000. However, the NFT marketplace only supports its own token Rarible for making payments on the network. In addition, Rarible also supports payments via credit and debit cards and is accessible in over 190 countries. It also supports a wide range of cryptocurrency wallets, including Metamask and Coinbase.
Rarible stands out as it is community-owned, meaning users get to take part in moderation and have a say on any proposed upgrades. It has also partnered with some of the biggest brands and artists to list their work and create unique NFTs.
Nifty Gateway
Nifty Gateway is one of the best NFT marketplaces as it focuses on premium NFT drops. Focusing on a limited number of assets tends to play host to some of the most valuable assets, sure to generate significant value in the buying and selling that take place. In addition, the NFT marketplace is home to famous artists and creatives, affirming its credibility in the sector.
Conversely, Nifty Gateway plays host to some of the most sought-after non-fungible tokens. However, this makes its selections a domain of higher-end investors, which could be beyond the rich of retail investors. For instance, the most expensive NFT ever sold in the marketplace went for $91.8 million in 2021.
The native token on the NFT marketplace is Ethereum. Nevertheless, it lets users buy NFTs using fiat, therefore, supporting credit and debit cards. However, the marketplace charges a 5% fee and comes with a slightly lower trading volume of about $100 million per month.
SuperRare
SuperRare is a non-fungible tokens marketplace for anyone interested in anything artistic. The marketplace emphasizes the credibility of its vast pool of friendly NFT art. Unlike other marketplaces, it is not home to celebrity-filled NFTs but focuses on artistic intent and credibility.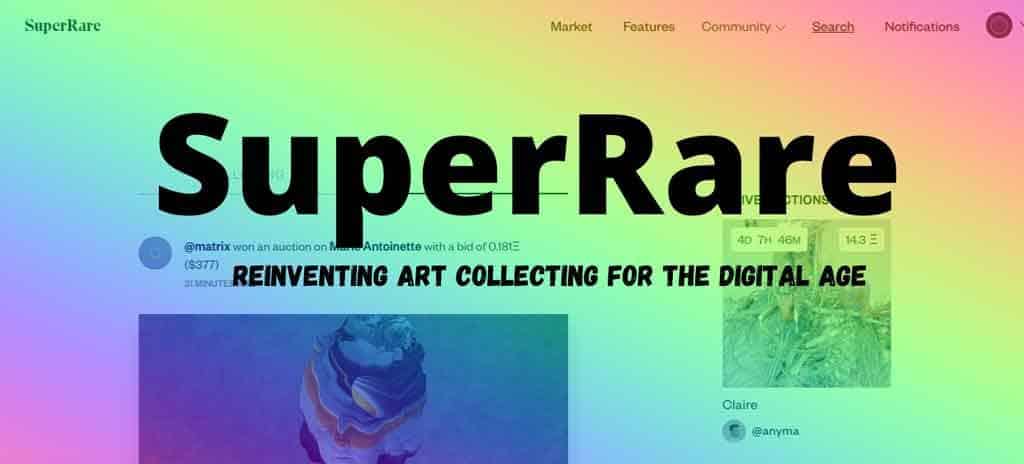 SuperRare is an NFT marketplace for curated and rare artwork and runs on top of the Ethereum blockchain. Each NFT artwork on the platform is secured by cryptography and integrated into the blockchain for easy tracking; all transactions on the network are made via Ether, the native token in the marketplace.
Therefore, SuperRare always stands out as a high-end gallery for NFT art. Artists are encouraged to mint and make available their most original pieces of art with no editions, as is the case on other platforms. The scarcity that comes with the NFT pieces on offer affirms the value of the pieces on the platform.
Decentraland
Decentraland is another high-profile NFT marketplace built on top of the Ethereum blockchain. It is designed to make it easy for people to buy various NFTs easily and safely. Users can acquire virtual property and other digital assets such as wearable art and photography on the platform.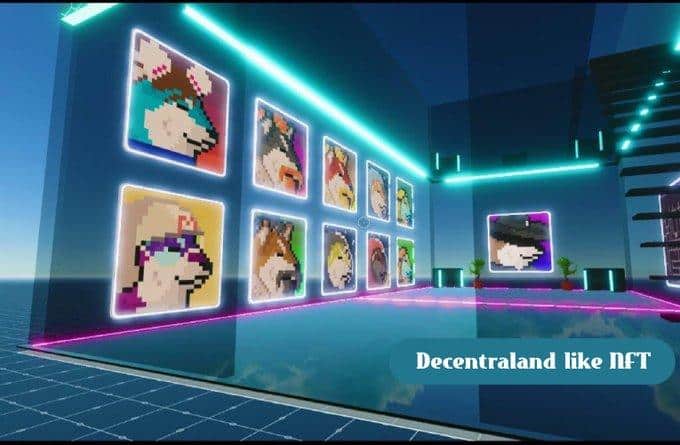 The NFT items on sale are stored in smart contracts on the Ethereum blockchain for enhanced security and easy tracking of the owners. In addition to supporting the buying and selling of NFTs, it also allows people to create their own NFTs, which can be listed on the marketplace.
Mintable
Mintable is an NFT marketplace for anyone who wishes to develop their non-fungible token and offer it for sale on the platform. The creation of NFTs on the platform is free and easy. There are smart contracts on the blockchain in the platform that allows users to create a digital asset with ease. The support also makes it easy to convert digital files such as PDFs into NFTs easily.

The NFT marketplace comes with a massive pool of digital assets ranging from photographs, artwork, and games. Its credibility is further affirmed by being backed by serial entrepreneur and investor Mark Cuban.
Final thoughts
The growing popularity of non-fungible tokens has paved the way for the development of marketplaces whereby people can buy and sell various digitized items. Amid the proliferation of the NFT marketplace, so have many scams cropped up dealing in fake NFTs. Therefore, caution is of importance when selecting an NFT marketplace.