DEXs are self-contained decentralized applications (DApps) that allow cryptocurrency buyers and sellers to trade without entrusting their funds to a third-party middleman or custodian. DEXs were created with the intention of removing the requirement for any authority to oversee and authorize trades performed within a certain exchange. DEXs run automated order books (or automated market makers) and trades with the use of smart contracts. As a result, they are "truly peer-to-peer." DEXs are lauded for providing owners of digital assets with increased privacy, security, and user control.
In this article, we will discuss top DEXs to invest in; while we believe they're sound investments, we are not providing expert financial advice, and anybody who purchases anything we recommend is solely responsible for any funds earned or lost.
Uniswap (UNI)
Uniswap is an Ethereum protocol for swapping ERC20 tokens. Uniswap, unlike other exchanges, is designed to be a public good—a tool for the community to trade tokens without paying platform fees or dealing with middlemen.
Uniswap also employs a basic math equation and pools of tokens and ETH to conduct the same work as traditional exchanges, which match buyers and sellers to establish prices and execute trades.
The overall purpose of Uniswap is to empower users to manage the exchange's governance, UNI. This means that users who have wagered any of the tokens will help the exchange's future by voting.
Since its launch in November 2018, Uniswap has undergone a number of changes. Its third version, Uniswap (V3), is now live, with enhanced capital efficiency, improved oracles, and numerous price tiers.
Curve Finance (CRV)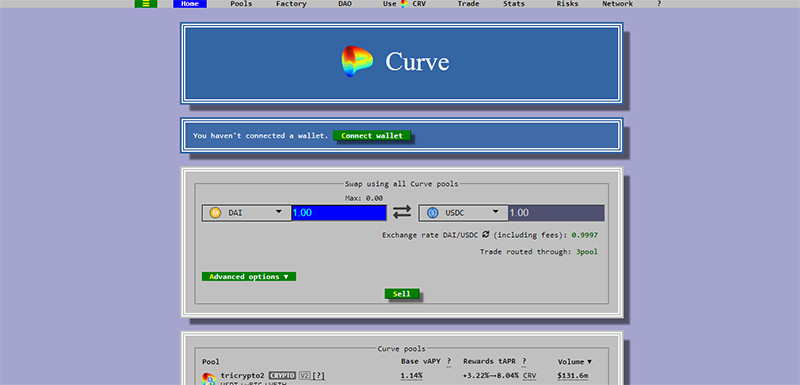 Curve is a decentralized exchange liquidity pool based on Ethereum that aims to make stablecoin trading as efficient as possible. The platform offers a sophisticated swap solution that allows users to trade stablecoins and other assets with a little charge of just 0.04%— half of which goes to liquidity providers and the other half to CRV token holders.
Curve was first launched in 2017 on Ethereum, but it has since expanded to include several other major blockchains, including Avalanche, Polygon, and Fantom, as well as several layer-2 solutions. Despite its retro appearance, Curve has paved the way for the DEX market, generating several billion dollars in monthly trading activity.
SushiSwap (SUSHI)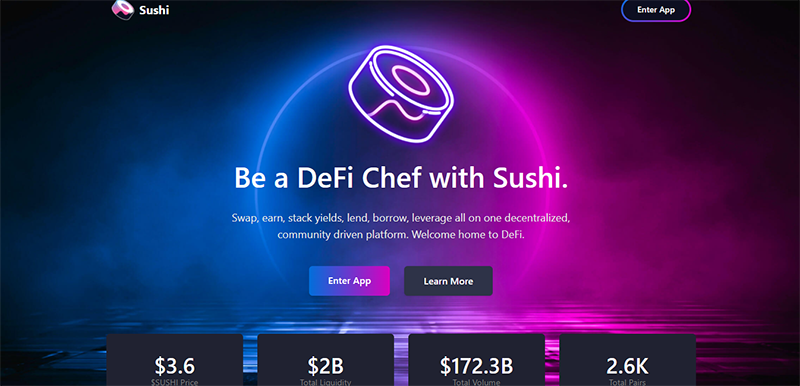 SushiSwap is a DEX that uses the Ethereum blockchain for automated market-making (AMM). It's also non-custodial, which means that, unlike centralized exchanges, it doesn't need to have tokens to trade them. Instead, it allows users to trade in a secure peer-to-peer environment with liquidity provided by other users.
As an AMM, it allows users to earn money by contributing liquidity to the site. It also provides a variety of yield pools, an on-chain lending solution, and a MISO launchpad, among other features.
SushiSwap has developed its own utility token, SUSHI. This token can be staked in order to receive a piece of the platform's trading fees as well as participate in governance.
MDEX (MDX)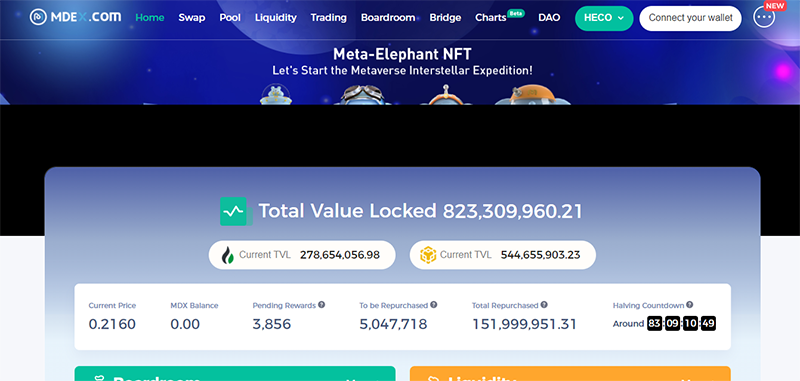 MDEX is the most popular DEX protocol, using Huobi Eco-chain (HECO), Binance Smart Chain, and Ethereum as its foundations. It aspires to be the greatest alternative for eco-token transactions as well as the largest DeFi ecosystem, merging DEX, IMO, and DAO.
It also allows for a dual/mixed mining process that provides users with a guaranteed liquidity procedure and secure transactions. MDEX also wants to encourage chain cross-chain compatibility in order to develop a high-performance compound DEX ecosystem.
MDX, the project's governance token, helps to ensure the success of the blockchains on which it is based. The token can be mined and traded with a total supply of 1 billion.
PancakeSwap (CAKE)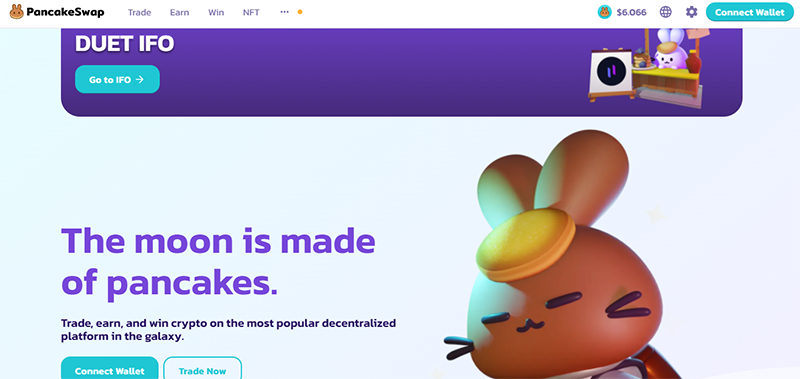 PancakeSwap is a Binance Smart Chain AMM and decentralized exchange for trading BEP20 tokens. The PancakeSwap team bootstrapped the company rather than using an ICO or IDO to raise funding. The site is currently funded by the PancakeSwap Treasury, which receives a 12 percent commission on all trading fees.
Thousands of BEP-20 tokens are supported on the DEX, which also has its own governance token, CAKE. Users can purchase CAKE crypto and hold it as a long-term investment. They can also stake it or use it to generate trading liquidity in exchange for large payouts.
PancakeSwap offers a variety of yield farms, a Binance Coin prediction market, a lottery game, initial farm offerings, an NFT market, and more in addition to its DEX capabilities.
dYdX (DYDX)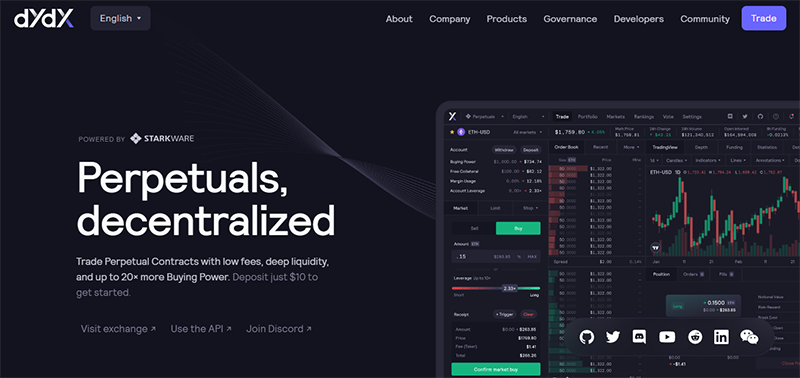 dYdX is an Ethereum-based layer-2 decentralized trading platform that enables a variety of financial products, including perpetual, margin, leveraged, and spot trading. In simple terms, it enables bidirectional trading by combining off-chain order books with an on-chain settlement layer.
Traders may use dYdX to manage their portfolios, collect rewards, and receive fee discounts based on their trading volume.
DYDX is the dYdX derivative platform's ERC-20 governance token, which can be utilized in the governance process as well as for fee discounts. Token holders can decide if a proposal is accepted by the community, which has implications for the platform's future.
ApolloX DEX (APX)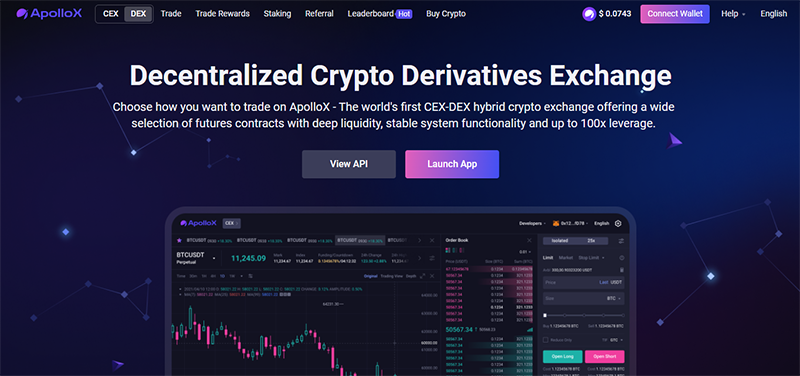 The ApolloX DEX was formally launched in November 2021. ApolloX introduced APX, its native token, in December 2021. APX has a total quantity of 10 billion coins, with 2.5% set aside for PancakeSwap trade. The majority of the supply will be allocated to trading rewards and ApolloX community treasury.
The DEX intends to make derivatives trading more accessible and anonymous for both novice and experienced traders. Users can use up to 100x leverage to trade USDT-based perpetual contracts.
ApolloX DEX is one of the safest exchanges on the planet, thanks to features like the ability to trade from cold storage to cold storage. Trades take place on the blockchain without intervention, thanks to Apollo's exclusive atomic swap technology.
Summary
A DEX can stand out with certain practical advantages, especially when compared to centralized crypto exchanges. These include tighter security measures and increased anonymity. Furthermore, users retain access to their wallets and thus control their cryptocurrency holdings. Uniswap, Curve, SushiSwap, MDEX, PancakeSwap, dYdX, and ApolloX DEX are the top seven crypto DEXs to invest in.