AX Trader from LeapFX is a 100% automated software that promises up to 39% monthly profits. This EA is touted to be beginner-friendly and claims to provide you returns in less than 3 months. With a unique trading approach, this FX robot places frequent trades accurately on six different currency pairs. The automated TP and SL settings ensure high profits with minimal loss.

AX Trader: To Trust or Not to Trust?
As per the vendor info, this ATS trades at a high-frequency range ensuring more than 100% profit. While the profit claims appear to be impressive, our initial analysis of the FX EA reveals that it is not a trustworthy expert advisor. For an EA to be reliable it has to meet certain criteria like vendor transparency, effective performance, backtests, positive reviews, and more. Our initial overview shows that this FX robot does not meet many of our criteria. Let us look at the features of this MT4 tool before analyzing its various aspects in detail.
Features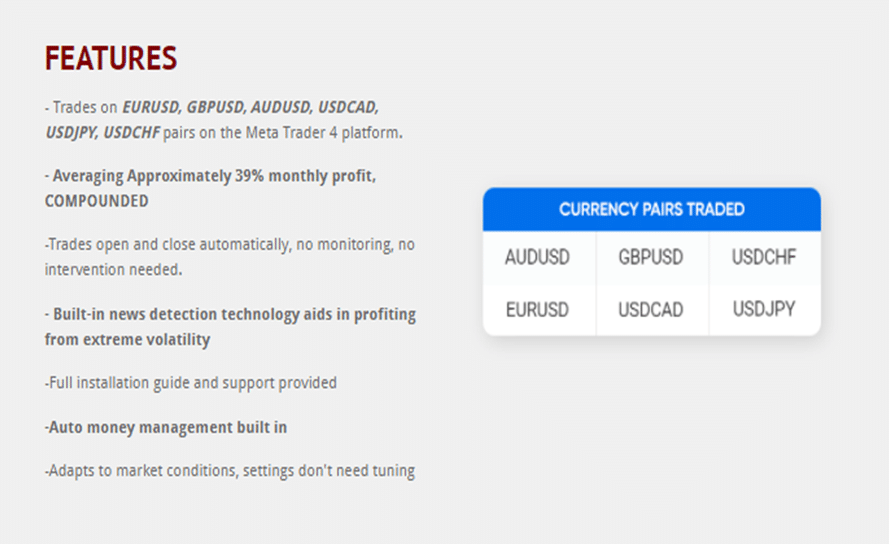 A hybrid trading approach is used by this FX EA which includes trend and Fibonacci. The combined approaches help the FX robot to place accurate trades frequently. Six currency pairs are supported by the ATS: EURUSD, USDCAD, USDJPY, AUDUSD, GBPUSD, and USDCHF. As part of the setup, this EA uses a news detection feature for exploiting extreme volatile conditions. Money management is automatic and the system is capable of adapting to market conditions automatically.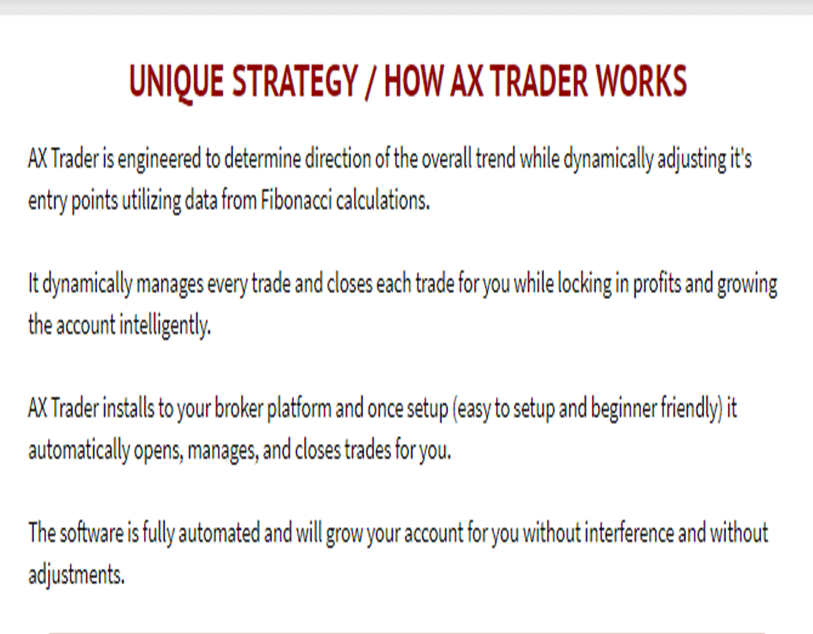 As per the vendor info, the unique trading approach used to help in identifying the overall trend and dynamically adjust all the entries using Fibonacci calculation. Once installed this EA does not need any changes made to its settings as all the features like money management, time management, etc. are automatically controlled by the FX Robot. While the promise of high monthly profits and the unique approach is aimed to lure newbie traders, we feel that this EA is not trustworthy due to the following reasons
Verified but ineffective trading results
Lack of vendor transparency
Poor customer support
Expensively Priced
Here is a detailed evaluation of the above reasons which will help you know more about this FX EA and its reliability.
Verified But Ineffective Trading Results
A real verified trading account is provided by the vendor. Here are screenshots of the trading stats and history.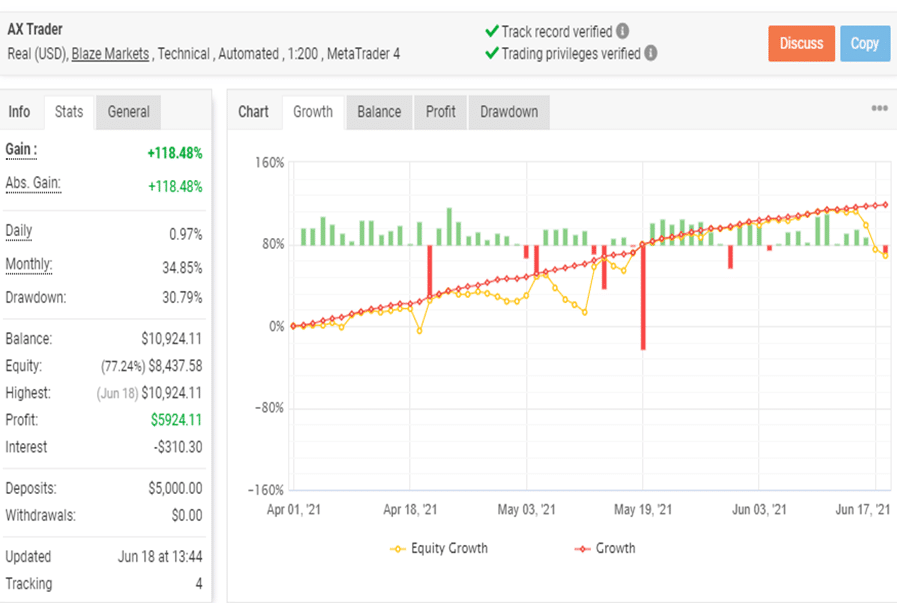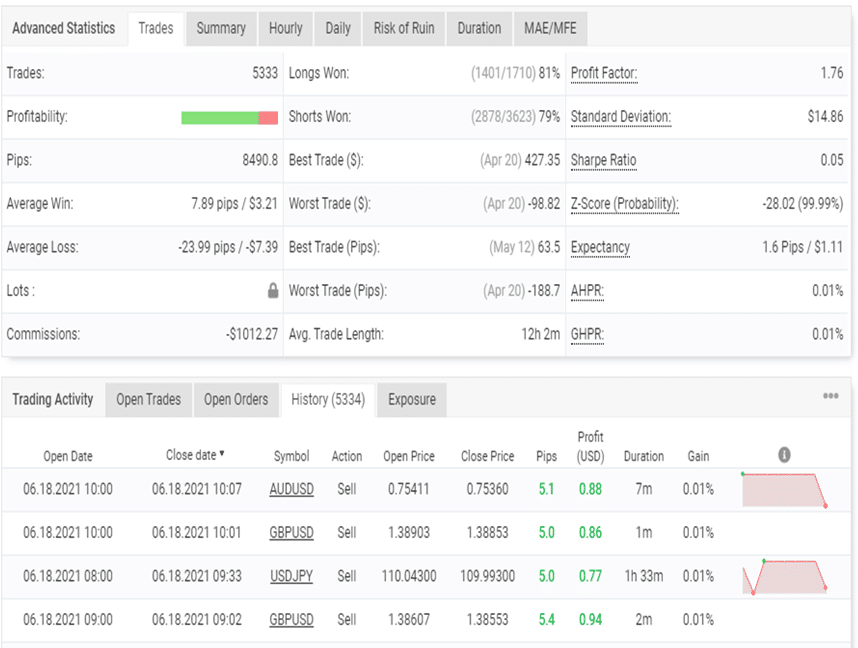 From the trading stats, we can see the total and absolute profit percentages are similar for this account at 118.48%. This real USD account using the Blaze Markets broker and the leverage of 1:200 shows a daily gain of 0.97% and a monthly profit of 34.85%. What we are concerned about is the high drawdown of 30.79%. Any value above 20% indicates high-risk trading and most traders including professionals would shy away from such approaches. The fact that this EA reveals such a high drawdown along with the huge number of trades in a short interval of three months makes us vary of it. Further, the lot value is hidden and lot sizes are not revealed in the trading history which further arouses our suspicion on the effectiveness of the performance.
Lack of Vendor Transparency
We have noticed from our review of several of the LeapFX products that there is a lack of vendor transparency. There is no info provided about the developer or the team behind the design of the EA. We could not find the location address or phone contact all of which makes us suspicious that the vendor is unreliable.
Poor Customer Support
An online contact form is the only option present for customer support on the official site. There is no phone contact or a live chat feature that helps to get instant response from the vendor. The absence of effective support is another downside that confirms our doubts regarding the trustworthiness of this EA.
Expensively Priced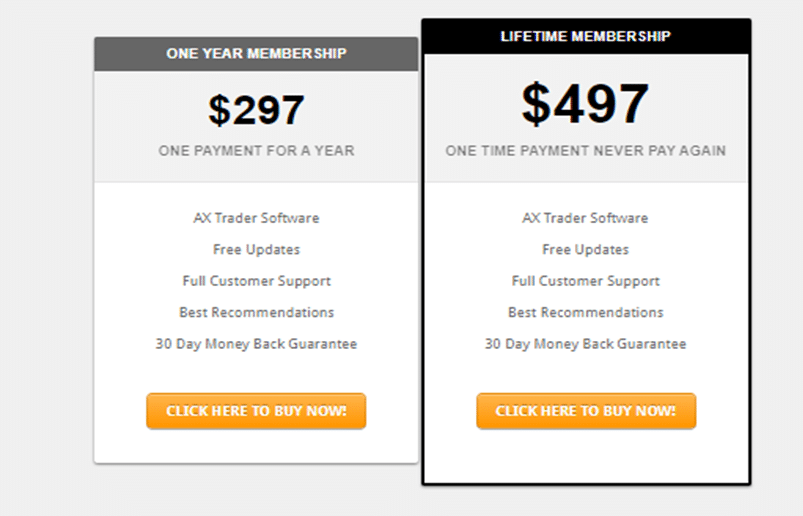 To use this FX EA you need to shell out $297 for a one-year membership and $497 for a lifetime membership. The features provided include free updates, customer support, best settings recommendations, and a 30-day money-back guarantee. When compared to the price of prevailing FX EAs in the market, we find this MT4 tool is exorbitantly priced.