AVIA is an investment program that focuses on Forex copy trading. It is said that the program is 70% automated and 30% discretionary. The vendor believes that by opening and closing positions daily, they help to reduce the investor's exposure to market risks. Taking losses early is another method the program applies to safeguard the investor's account. These measures try to fulfill AVIA's objective which is to prevent exposing the trader to unnecessary risks in all market conditions.
AVIA: to trust or not to trust?
We have analyzed AVIA and found that this program cannot be trusted. We came up with this trust score after we noted several suspicious activities by the vendor. The developers have hidden data (i.e., lots and trading history) that could have enabled us to assess the risks their program carries. They also describe their strategy vaguely, a sign that they don't know what they are doing. Let's have a closer look at the aspects we assessed.
Features
Trades all major spot currency pairs
Works with many brokers including LMFX, Fullerton, CedarFX, FBS, HugosWay, FIBOGroup and VT Markets. However, they do not work with IG.Com, Oanda and Forex.com
Manages risk a very early stages
Offers a 30 day zero-risk trial for traders who want to see the performance of their strategy
Runs on the MT4 terminal
Advises traders to use higher leverages
Lock-in periods are absent. So, clients can withdraw their money whenever they want
Some of the requirements of a trading account are:
Traders with accounts <$40k are advised to have a minimum leverage of 1:500
Permit hedging
Allow the professionals to trade micro lots of 0.01
Allow limitless number of open positions
AVIA applies a trading strategy which entails monitoring what happens in the market and evaluating open positions. Detailed plans for entering, defending the positions and exiting trades are then developed. Nonetheless, we are dissatisfied with this strategy description. It is too vague and doesn't touch on the data and indicators tracked, the formula used to assess open trades, etc. Therefore, we are not convinced that such an unclear strategy can work for traders.
AVIA has a variety of investment options. A minimum of $3k-$5k is needed to invest. If you choose this option, you will incur a performance fee of 36% and work with a leverage of 1:500 or more. The highest amount you can invest with is $250k and above and you will be charged a performance fee of 32%. The leverage needed is 1:50 or greater. It is clear that the more money you invest, the lesser the performance fee charged and the smaller the leverage used.
Backtesting results
Backtest statistics for this program are absent. This is a huge setback. Without this data, it is impossible to know if the vendor's strategy really worked in the past and how effective it was. Consequently, we do not have a benchmark that we can refer to as we analyze the live trading results
Trading results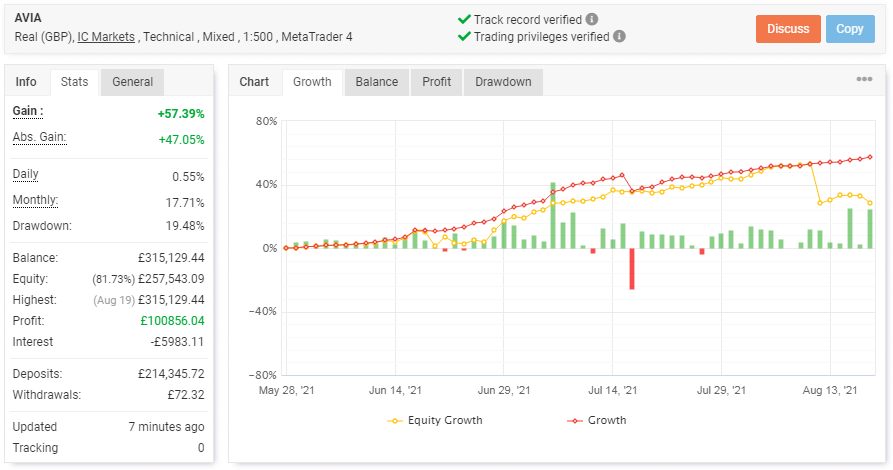 What we have here is a real GBP account that was opened a few months ago, in May 2021. Until now, it has obtained a gain of 57.39%. It has been making profits daily and monthly at rates of 0.55% and 17.71% respectively. From a deposit of £214,345.72, a profit of £100,856.04 has been made. The balance has increased to £315,129.44. A total of £72.32 has been withdrawn.

We can see that the account has made many trades during this short duration, 2673 deals to be specific. Out of these, the long and short trading positions won are 76% and 78% respectively. The profit factor is 2.63. The pips made are 25715.6. The average win which is 18.40 pips is slightly lower than the average loss of -20.59 pips by 2 pips. This difference may increase and present risks to the capital. Information on lots used is locked.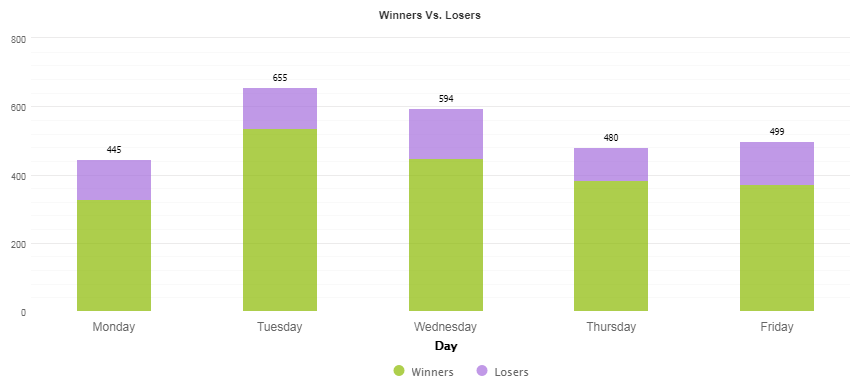 The account mainly traded on Tuesday, having closed 655 deals.

The risk of ruin of this account is low.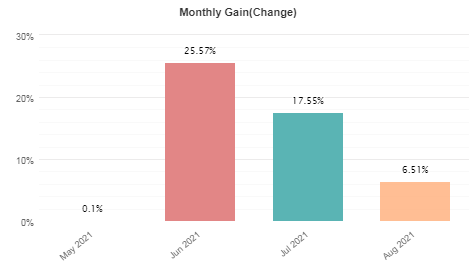 The account has been making profits since its inception.

We cannot access the trading history data since it is locked.
High drawdown
The account managed by AVIA has a drawdown rate of 19.48%, which is not good. It shows us that the program applies a high-risk strategy. Therefore, the figure is likely to rise and expose the capital to more losses.
Vendor transparency
The company behind AVIA is LEFTURN. This is a FinTech company that was founded in 2017 with an objective of becoming a long-term, number one trading partner. It mainly specializes in Forex Copy Trading and Managed Accounts. They say that they work with many professionals holding advanced degrees in quantitative disciplines like mathematics, statistics, computer science etc.
However, we cannot easily believe the qualifications of this team. We need tangible proof to verify their claims. For all we know, the vendor could be saying this just to lure us into thinking that they are credible.
Customer reviews
There is no customer feedback for the program. We searched various Forex robot review sites to see if customers had provided their opinions about it but couldn't find any. This is fishy given that the company claims to have been in the market since 2017. 
Alphi
Alphi is the new name of Avia. The devs decided to change the link to their services as well as rebrand it and add another trading account to demonstrate the performance of the so-called newly launched system. It looks ridiculous. If the devs want to be taken seriously, they need to provide explanations of their actions.