Do you wish to find a reliable arbitrage-based trading system that can bring you sizeable profits? AutoArb is a trading system created by the LeapFX team that claims to generate profits each day without the trader having to assess the direction of the market. But, can you truly trust this system?

There are several such systems on the market that make tall claims like this. But, it's not possible to know whether an EA is profitable or not unless an in-depth analysis is conducted. Today, we will look at the different aspects of AutoArb in order to determine its reliability and efficacy.
AutoArb: To Trust or Not to Trust?
This Forex EA from LeapFX claims to generate consistent profits and lets you trade in huge volumes on a frequent basis. As per the information provided on their website, their advanced algorithm can analyze market data faster than others so that traders don't lose out on their profits. But, as per our analysis, this is not a dependable system. The reasons are as follows:
Lack of clarity in regards to the trading strategy used
No live trading results provided
Lack of backtesting data
Features
AutoArb uses an arbitrage strategy that involves profit generation via the price differences between different brokerages. We think this is an unnecessarily complicated trading procedure since it demands some technical expertise that a novice trader might not possess as well as larger position sizes. On the company website, we can see several videos that depict highly successful trades, but they seem like a desperate attempt to sell the system rather than highlighting its strong points.
This EA lets you trade in all kinds of pairs. It is fitted with stealth technology so that other traders cannot copy your strategy. This is achieved by masking the automated trades as manual.
AutoArb claims to provide full support, expert trading recommendations, and a handy user guide that traders can go through in order to configure and set up the software. But, there is very little information in regards to the applied strategy, which can be off-putting for most traders.
AutoArb EA provides two pricing plans, neither of which is exactly cheap. We think such high price tags are unjustified for a robot that provides no verified trading results.
Forex traders usually look for software that delivers high liquidity, low commissions, and tighter spreads. Furthermore, there is nothing on the website to indicate how the system will perform in the future. Let us look at a few other areas where we found this system to be disappointing.
No Verified Trading Results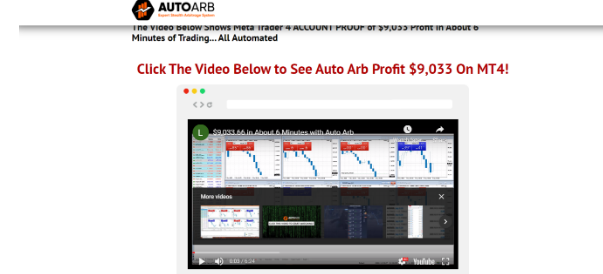 Live trading results are something Forex traders look for while deciding whether or not to invest in a robot. When the results are verified by websites like FXBlue and Myfxbook, it gives us the confidence of placing trades with the system because we get to know about crucial factors like profit ratio, win, and loss percentage, drawdown, trading strategy, etc.
Unfortunately, AutoArb provides no such information. All we have are a series of videos showing highly profitable trading but the trading accounts cannot be verified. Thus, there is no way to determine whether these results are true or manipulated to be favorable.
Vendor Transparency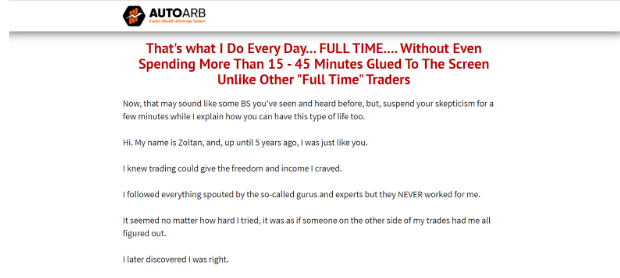 Vendor transparency is a crucial factor since it assists Forex traders in determining whether a system is legitimate or not. AutoArb does not offer much in that department, unfortunately. The lack of developer information could be a cause of concern for many, especially for experienced Forex traders who like to delve into the tiny details before purchasing such a system.
As shown in the image above, the website contains a typical story of a successful trader that, to an experienced trader, would seem like a desperate marketing attempt. Rather than providing all this useless information, the company needs to share more data about the vendor, i.e. the identity of the developer and the location.