Athena EA is a grid-trading algorithm that applies a take profit to ensure that it never closes a day with a loss. It promises to earn you about 5-25% monthly profits. The robot gives you a choice of either trading on your account or investing in a managed account at no upfront cost.
Athena EA: to trust or not to trust?
As we mentioned earlier, Athena is majorly grid-based. So, the risk of losing your capital with the system is quite real. However, the system is still profitable and can increase your investment portfolio under favorable market conditions.
Features
Here are the major features of the robot:
It runs on the MT4 trading terminal and mainly trades on the EURUSD currency pair.
The system includes a risk management system.
It gives the user full capital control.
The EA provides an EA installer and setup handouts as well as access to reporting and maintenance.
A free VPS is available.
The minimum trading deposit is $50 for cent accounts, €4000 for the rental option, and €400 for a PAMM account.
You are advised to trade on an account having 500:1 leverage since it would be risky to use less.
An account with low or zero spread is recommended because the EA is very sensitive to spreads.
You are required to use a broker that accepts hedging.
The EA offers a variety of trading plans. We have the rental option that goes for €799 yearly, a lifetime one that costs €999, and the rental sponsored pack that is €499. However, if you want the vendor to manage your account, then you will be charged nothing. All that is required from you is to provide a supported broker account.
Athena's strategy is based on technical analysis. It comprises 2 EAs that work concurrently; one places buy orders, while the other one places sell orders. Notably, depending on the balance, the 2 systems must run simultaneously on a number of EURUSD charts with various timeframes. Lots of trades are conducted daily, both longs and shorts, including hedging. To enter and exit trades, the EA uses a combination of oscillators, averages, and price swings. The grid and price action trading strategies are applied as well.
Backtest results
The backtest stats for this system are unavailable. The devs indicate that it is difficult to backtest the system mainly because it consists of two EAs that must work together on a specific timeframe of a chart.
Trading results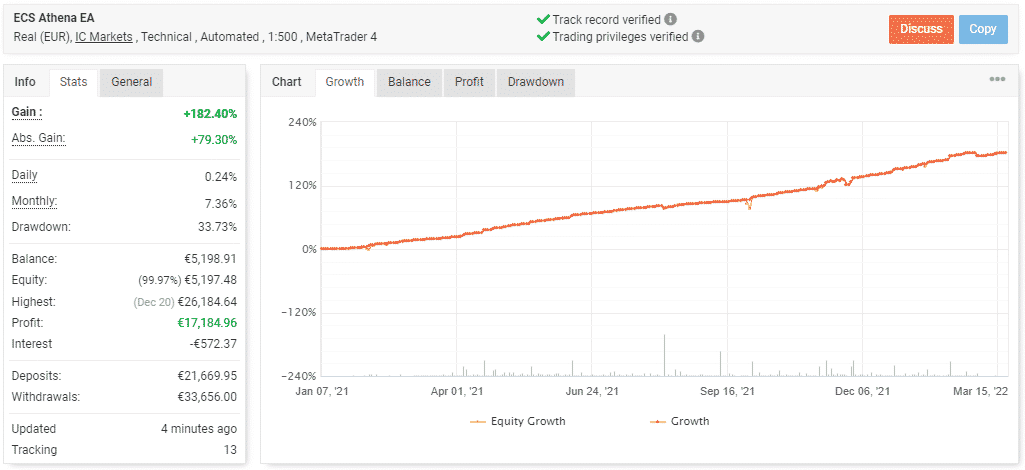 The above account was launched in January 2021, and more than a year later, it has achieved a profit amount of €17184.96 from a €21699.95 deposit. The user has made a large withdrawal— €33656. So, we now have a current balance of €5198.91 and a total gain of 182.40%. The pak drawdown was 33.73%.

The average trade length is 5h 19m. It is no wonder that the system has completed more than 20,000 orders till now. Unfortunately, the win rates for long (69%) and short (73%) positions are far from being excellent. Also, the profit factor (1.65) shows that the returns on investment are not substantial enough. In fact, more losses than wins are made, as evidenced by the average loss (6.44 pips) that is almost thrice higher than the average win (6.44 pips).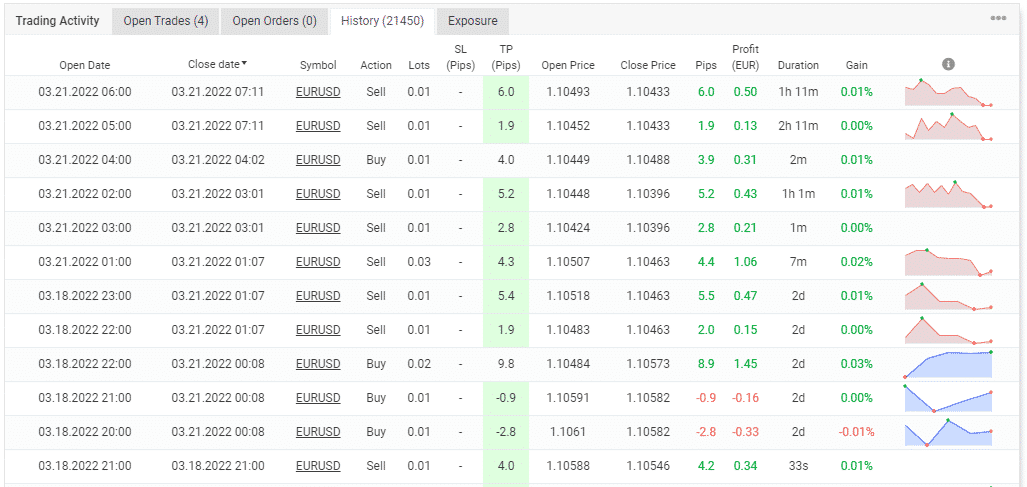 From the data above, it is apparent that the grid strategy is used. The winnings are very small.
Vendor transparency
The creator of this robot is Elite CurrenSea, a company initially founded by Nenad Kerkez and Chris Svorcik in 2014. Both individuals have a background in Forex trading and claim to have won awards in the field. Their company is based in Tallinn, Estonia.
User reviews
Athena EA has no customer reviews on third-party websites. It looks like traders are not using it as of now. Perhaps we will see some testimonials in the future when the EA will be more popular.