Astreobot is a cryptocurrency robot that trades with full automation and allows traders to customize the strategies, exchanges, and parameters according to their needs. It supports multiple trading platforms like Binance, Bitfinex, Poloniex, etc. This review will study the working, supported exchanges, and the features of the platform to better understand its profitability.
How does Astreobot crypto bot function?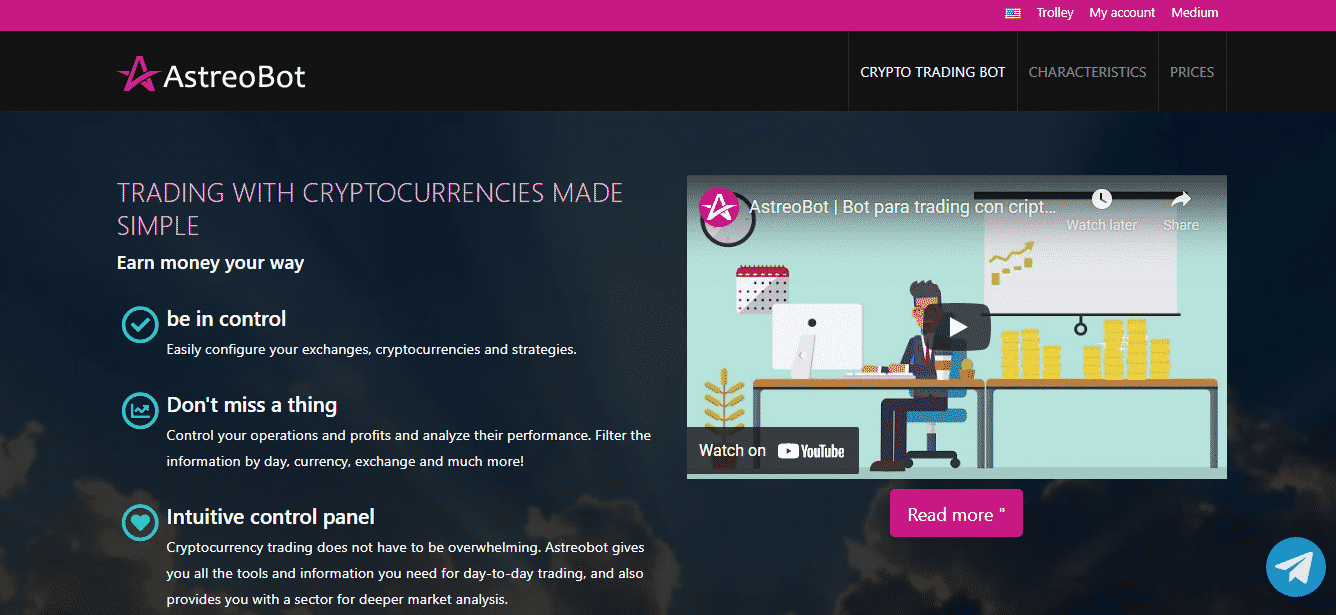 Astrebot creates buy and sell orders automatically according to the parameters set by the trader. Investors can use several technical indicators, RSI, Bollinger bands, MACD, etc., and are provided third party signals for better market analysis.. This algorithm operates on a VPS or desktop PC running Windows, Linux, or macOS. It can also run on Raspberry.
Astreobot review–positive aspects
The following points are positive for the algorithm:
Astreobot offers a 7-day free trial for its users where they can test the functionality and understand the bots' functionality.
The traders do not have to pay every month for the subscription plan; they can buy a lifetime license to use it.
Astreobot review–negative aspects
Whereas the negative points are:
The platform supports a limited number of exchanges i.e. six.
The developers provide no guarantee of their bot profitability.
The subscription plans are costly and can only be paid in Bitcoin.
Time in business
Astreobot's website has not mentioned any details about the company. There is no information about the foundation year, company location, or the developers. They have been on Twitter, a popular social media platform, since April 2018.
Reputation
Astreobot has been around for several years, but there is not enough engagement about the product except for Facebook, Twitter, and telegram. They do not have any reviews on third-party review platforms like TrustPilot.
Supported exchanges
Astrebot currently supports the following exchanges:
Binance
Bitfinex
Kucoin
Bittrex
Poloniex
HitBTC
UI of Astreobot
The user interface is easy to understand and use. It is currently available in Spanish and English, where the trader can access all the information and tools for trading. The platform provides live charts, running stocks, etc.
Key features of Astreobot
Astreobot allows 24/7 trading with live notifications about trades on your phone via telegram. Investors only need to pay once via a lifetime license. The platform also provides technical indicators and parameters for a safe investment.
How to get started on Astreobot?
It is possible to start with the EA in the following steps:
Traders can sign up onto the website and select a bot according to their needs
Integrate your bot with cryptocurrency exchange and select the coin and trading pair
Run your algorithm and start trading
Customer support
Customer service is provided through ticket support and a community of telegram groups available in English and Spanish. There is no live support, emails, or telephone number.
Are traders happy with Astreobot?
As mentioned before there are no reviews present on trusted third-party websites like TrustPilot. Client feedback is an important point from which traders can have an idea about the working and functionality of the product.
Pricing and fees
There are four different plans for beginners and expert traders. Free trial is available for a week with one supported exchange. Other offers are Start, basic, and Pro for 0.0100BTC, 0.0165BTC, and 0.0299BTC respectively. Astreobot only accepts Bitcoin as payment, and changing an API key costs 0.0015BTC. They do not provide a refund after purchasing any plan. There are no monthly recurring costs as the license is for a lifetime and includes unlimited updates.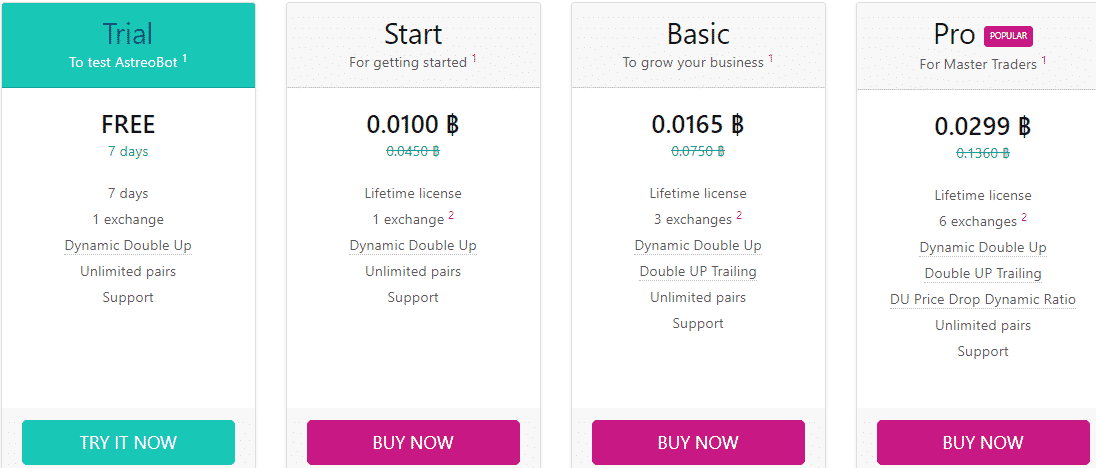 Is a free trial available?
Yes, the developers offer a free trial valid for seven days. Unfortunately, it includes only one exchange.
Languages supported
The website is available in Spanish as default and English as a supported language.
What kinds of traders is Astreobot best suited for?
Astreobot is suitable for beginners as the user interface is simple. The bot can be configured easily according to the needs of traders. The vendor guides new users on its installation and usage.
Company information
The company is not clear on its location and market experience. There is no information on the official website that can lead us to the vendor's identity. We also have no idea where the parent company is. The product has a small number of followers on Telegram, Twitter, Facebook, and Instagram, and engagement is low.
Below average Crypto bot: should you get it a try?
Astreobot is not transparent on multiple factors including live and backtesting records. There is no information about the company's whereabouts. The developers do not provide a refund once the license is purchased. We can not find any customer reviews anywhere on trusted platforms.