Algopound is a Forex expert advisor, which promises to provide investors with returns even when they sleep. The main goal of this EA is to solidify a 3-6% average return per month while keeping the drawdown under 15%. The developers of this trading system believe that these numbers can help everyone to become "one of the 2% profitable Forex trader" (the word "trader" spelled incorrectly on the official Algopound website). Algopound is advertised as one of the best solutions for those who want to grow their accounts consistently in the Forex marketplace.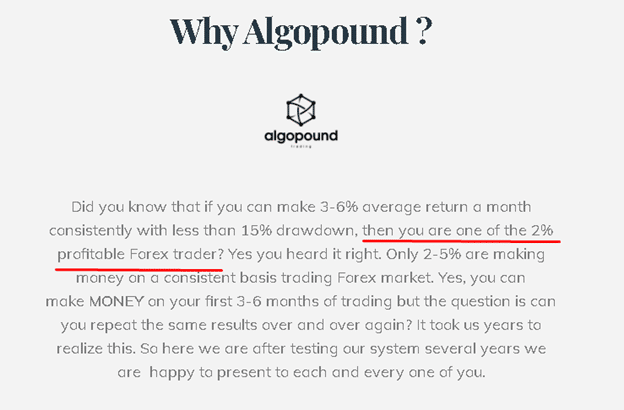 We have prepared this Algopound review, to help interested in the software investors make the right investment decision for their funds. We are going to analyze the trading performance, risk factors, drawdown, vendor transparency, trading strategy, and the other important aspects of the software, which provide value to the reader.
Is Algopound a Good Investment Solution?
We do not recommend Algopound EA to the traders. Our verdict and assessment are based on:
Little trading strategy insight
Hidden trading activity data
Sign up with an unknown broker
Lack of vendor transparency
Key Features
The developers of this trading software advertise Algopound EA as an effective trading tool, which provides traders with hand-free trading that can be connected directly to your Meta Trader 4 account. They convince the community that they no longer worry about unsuccessful manual trading or missing signals that are sent from signal providers. This EA is advertised as an excellent trading solution for those who want to exclude manual trading and experience smooth and carefree automated trading with a Forex robot.
They point out the following three reasons to use the software: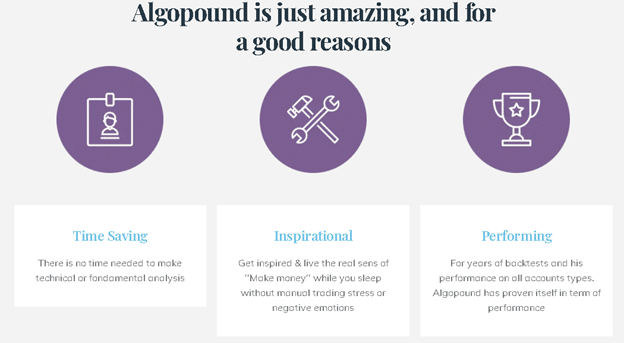 To get started with this expert advisor traders need to sign up for a live trading account with a MultiBank broker (offered by Algopound). Then, traders need to provide all their personal information to the vendor, including their MT4 account login and password. It looks risky because you are obliged to provide your personal information to an absolute stranger.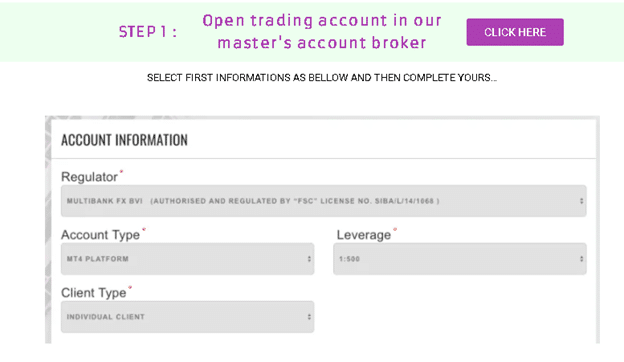 It is difficult to trust somebody who has decided to stay incognito for people who need to provide full account access.
Little Strategy Insight
The developer of this trading tool provides very little information about the trading strategy of Algopound EA. The one thing we know about the trading approach is that the "system trades on an impulsive move from certain market conditions", but this is vague because it makes no sense grammatically. They add that their main priority is risk management – the reason for their successful trading results over the last 3 years.
Overall, the vendors do not provide enough information about their trading approach and methodology and what we see on their website is not enough to go on. We have not a clear understanding of how the system works. If the developers do want to gain a good reputation among traders and sell out their product, they need to reconsider their vague approach, remove the fluff, and tell us how their trading system works.
Trading Performance Data
The Algopound team offers real trading results on their website. They claim that they "show real and live accounts traded 24/5". However, the fact is these "live accounts" are simple screenshots that cannot be verified, as there is not a direct link to myfxbook.com. website to analyze the trading performance of the account provided by the Algopound team.

Therefore, we have decided to conduct additional research to find at least one live trading account at myfxbook/fxblue to analyze.
Well, let's jump to Algopound trading results verified by myfxbook.com.
This is a Real USD trading account that is working on the MT4 platform with MultiBank brokerage. It launched on June 8, 2020. The software is trading XAUUSD, WS30_U, USDCAD, GBPJPY, GBPCAD, GBPAUD, EURGBP, and BTCUSD currency pairs with a leverage of 1:100.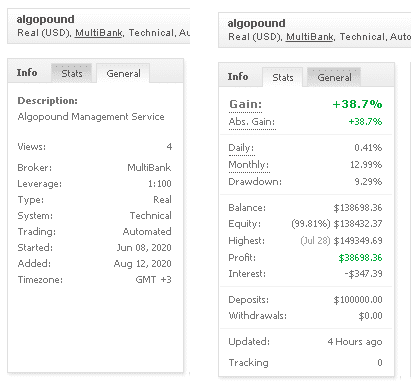 Since the period of activation, it has obtained a gain of +39, 7% with a monthly gain of 12.99%. It has deposited $100000 and obtained $38698 of profit. Currently, its balance equals $138698. Its drawdown is low and equals 9.29%. Its average win ($17.31) is mostly equal to average loss (-$16.56). The profit factor is high and equals 3.19. The average trade length is 14 hours and 23 minutes.
Since June 8, 2020, until August 28, 2020 (the day of our review), the account has placed 4325 trades and 44156.1 pips. It has won 3257 out of 4325 trades, which represents 75%. Its risk-reward ratio is 1: 3, which represents a good trading statistic.

Trading Activity Is Hidden
We have noticed that the trading activity (open orders, open trades, history, and exposure) is private. Therefore, we cannot analyze it. Brokers frequently hide trading activity data to mask the true size of the order. The vendors of Algopound software do not display any level of transparency of their trading results. Strange for those who promise to provide "transparency" to their customers: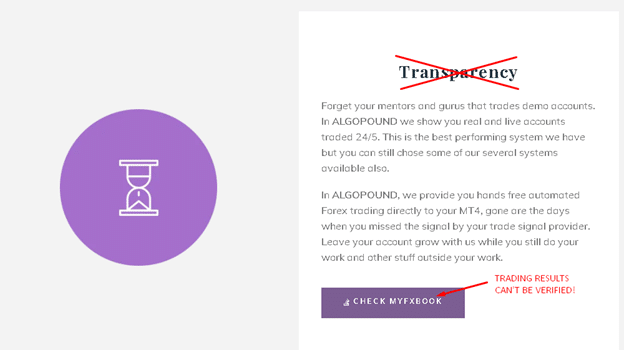 Lack of Vendor Transparency
Many vendors are offering their products but do not represent any information about themselves. The developer of Algopound EA is not the exception. They provide neither information about who they are, where they are located, nor what trading experience they have in the Forex marketplace. We know nothing about people who stand for this EA. It is a very bad sign for those vendors who want to obtain a good reputation among investors and sell out their product successfully. Our advice for them is to add this information to their website better sooner than later, as it will provide the community with valuable insight. Moreover, it will add more trust and reputation to the brand.
We have also conducted additional research with the help of whois.domaintools.com, which has shown that the Algopound website was created on April 12, 2019. The registrant country as well as the IP location of the website in the USA (see the screenshot below). The registrant organization of the Algopound website is THE ENDURANCE INTERNATIONAL GROUP, INC.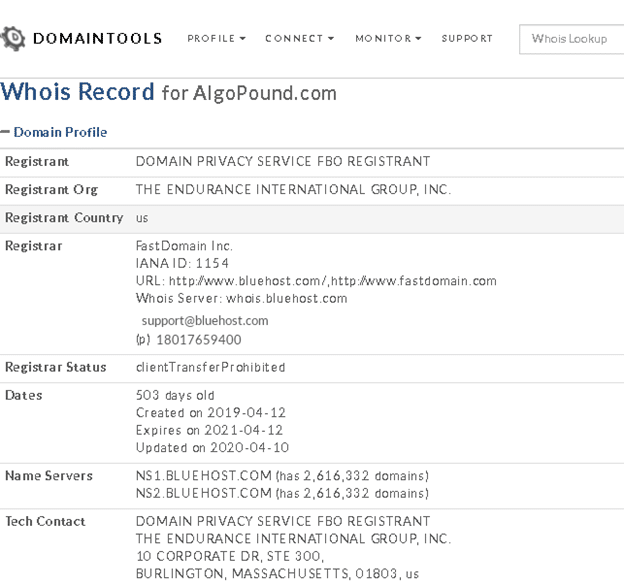 To get in touch with support, traders need to send an email to [email protected] or message to their social networks.