Agimat Trading System is a high-performance Forex EA that works on TradingView as well as the Metatrader 4 and 5 platforms. It uses an advanced neural network that allows it to complete complex calculations in a short period of time. In order to gauge the reliability of the system from an objective point of view, however, a thorough analysis is necessary.

Agimat Trading System: To Trust or Not to Trust?
The vendor has made a detailed presentation of the product on the official website of Agimat Trading System, highlighting the main features and the live trading examples. Then there is some information provided about the company, along with an explanation of why this system is not a scam and how discipline and patience can help you attain better results in the Forex market.
The vendor also explains how the neural network of this Forex EA can help you gain an advantage in the market. We also have the pricing details, as well as a tutorials section where you can find information on how to install the software and how to place trades with it. Users have the option of opening a support ticket or sending a message to the service team.
Overall, the presentation looks quite professional, and the vendor does make an effort to reveal the maximum amount of information. Thus, we have high expectations from Agimat Trading System and our first impression tells us that it is a trustworthy system.
Features 
Agimat Trading System is a fully-automated Forex EA that has a one-time license fee of 174 Euros. The EA is updated on a regular basis and support is provided via email within 24 hours of requesting. It has mobile apps available for both Android and iOS, including extensive video tutorials.
After you complete your purchase, you will become a part of the Forex Trade Copier and the scalp trades will be copied to your account. The in-built artificial neural network allows the robot to adapt itself to uncertain market conditions. It effortlessly completes the cognitive tasks that humans struggle at and manages to take advantage of the trend.
This Forex EA follows a scalping strategy where small profits are made from each trade and positions are held only for a short period of time. Some Forex traders consider this a great way to make steady and long-term profits, but others who wish to make huge profits while taking high risks do not prefer this.
Verified Trading Results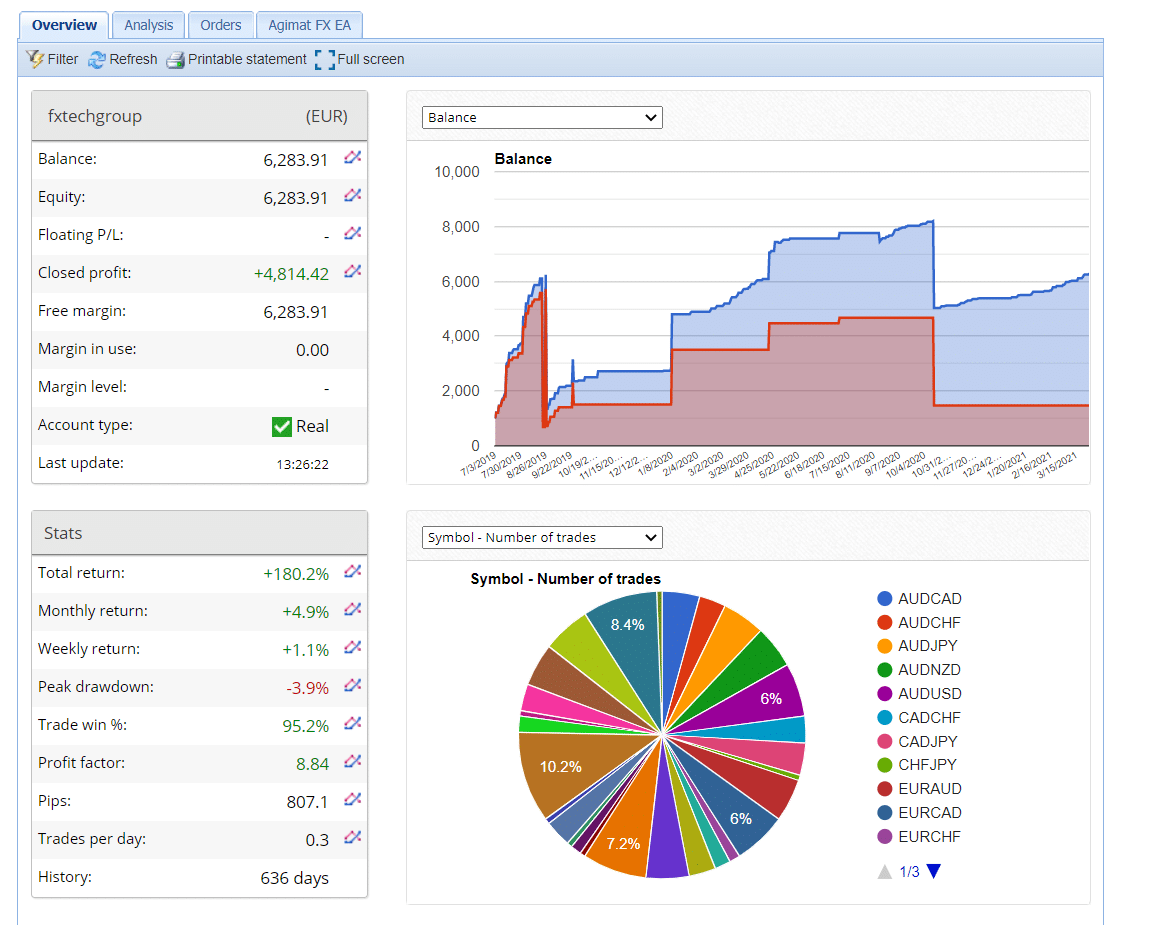 On the official website of Agimat Trading System, we have the link to a live trading account verified by FXBlue. This account has a long trading history of 636 days and during that time it has managed to close a profit of 4814.42 Euros. Currently, the daily, weekly, and monthly profits are 0.23%, 1.14%, and 4.89% respectively, while the total return is 180.2%.
One thing that must be noted about this trading account is the extremely high win rate of 95.2%. Looking at the trading history, we can see that the losses have been infrequent and insignificant in comparison to the profits. The profit factor for this account is 8.84, which is enough to impress any Forex trader.
Although the live trading results are satisfactory, we would have liked to compare them with the backtesting data to get a better idea about the system's profitability. Unfortunately, the vendor has not made these available.
Vendor Transparency
Agimat Trading System is registered with the United States Patent and Trademark Office and the vendor has provided the link to the official registration certificate as proof of this fact. The system has been developed by Dennis Buchholz, the founder of FX Tech Group Ltd., a software firm based in Hong Kong and Spain. No information is provided about the other people working in this company.
Customer Reviews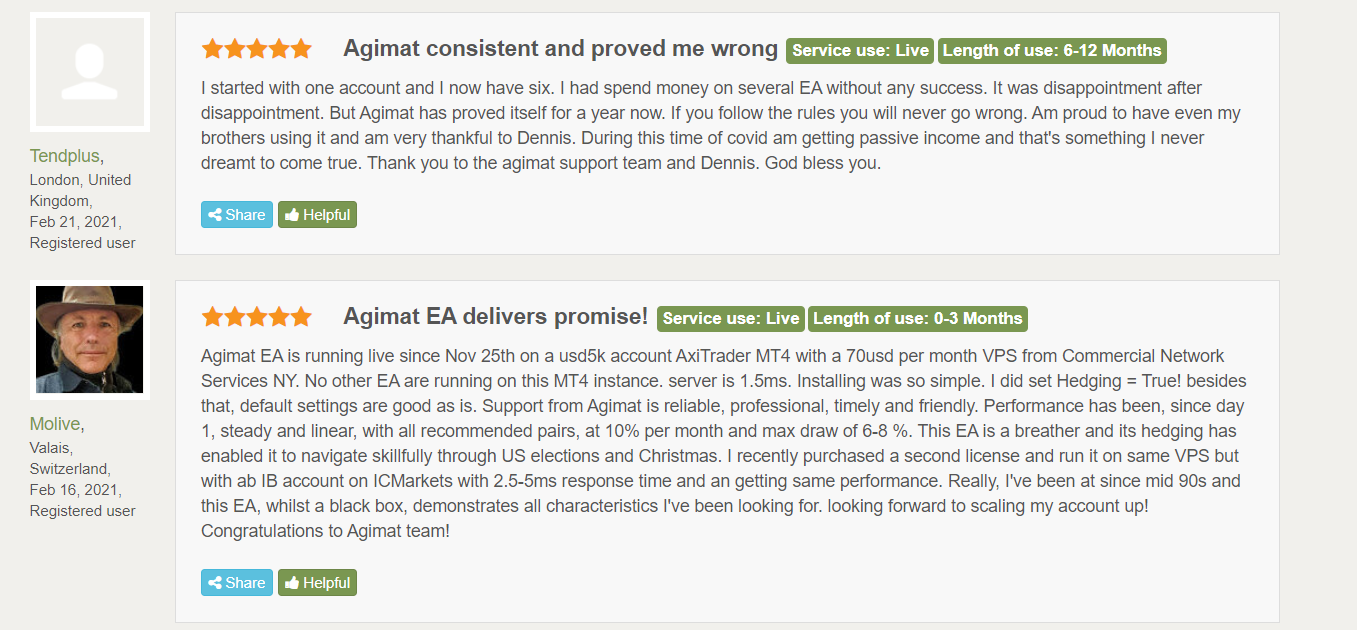 On the forexpeacearmy.com, we found several positive customer reviews on Agimat Trading System. It has a rating of 3.994 out of 5 on this website, which tells us that most people trust this Forex EA. Users have praised the simple installation process and the default settings.
It is mentioned that this EA delivers steady and linear performance with all pairs. The monthly profit and low maximum drawdown are also praised by the reviewers.