100% Monthly EA comes with verified trading results assuring that a trader will make profits in the long term. However, risky strategies such as martingale make it difficult for us to put the robot in our charts. The developer does sell the get-rich-quick idea at the beginning of the page, stating, " Don't miss the final chance to make money fortune."

100% Monthly EA: To Trust or Not to Trust
Before committing to any expert advisor in the financial industry, it is necessary to go through all its pros and cons. 100% Monthly EA makes a good impression with the captivating percentage gains over a short period. Diving deep into the analysis, we can see if those profits are worth the risk of putting our money on the line.
Features
You can choose to rent the robot for $79 for a month or get an unlimited version for $1399. Trading signals are also available at $35. The robot demands high leverage of 1:500 for a deposit of $500. It is optimized to trade on EURUSD, AUDJPY, EURJPY, GBPUSD, NZDCAD, NZDUSD, and GBPCAD.
Looking at the results on FXBlue, we can see that the robot uses a martingale strategy with a fixed maximum lot size in case the account experiences a drawdown. It maintains an intermediary approach between day and swing trading, holding trades for 31.4 hours on average. The developer does not provide much information about the timeframes and the settings of the expert advisor. The only way to contact him is through his email. He recommends mailing between 6 AM EDT and 2 PM EDT.
Following other features come with 100% Monthly EA:
Automated trading with precise entries
Utilizes all sessions for trading with automated risk management
Compatibility with both MetaTrader 4 and MetaTrader 5
No trading knowledge required
Verified Trading Results
Verified trading records on FXBLue show a closed profit of $5577. The robot traded for 41 days with an average of 11.5 trades per day. The profit factor stood at 1.99 with a winning percentage of 76.8%. The expert advisor had an average win of $31.09 and a loss of $-51.51. The results are still being tracked on the live portfolio. There is a money-back guarantee for those who are not satisfied with the product.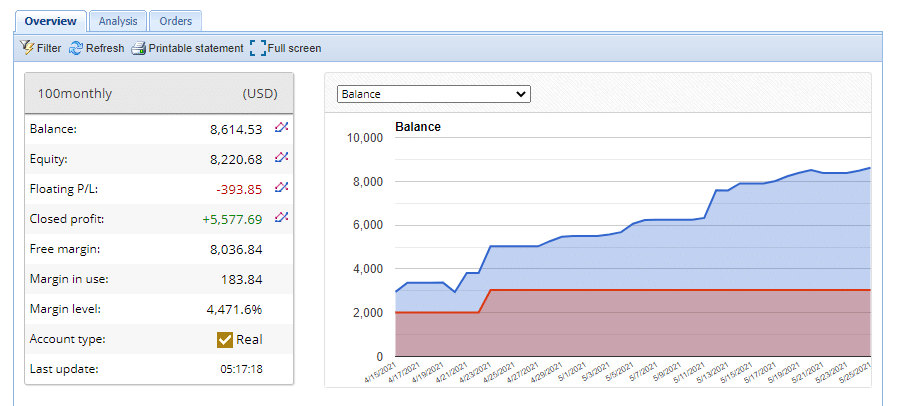 Backtesting results are tracked via Myfxbook for pairs of EURUSD, NZDCAD, and GBPUSD. They differ from the actual results because there is a stop loss attached with every position. There is also no martingale involved in any trade, and the robot uses scalping methods to trade. The profit factor stood at 4.64, and the average win rate is 62.5%. The balance curve looks much more smooth.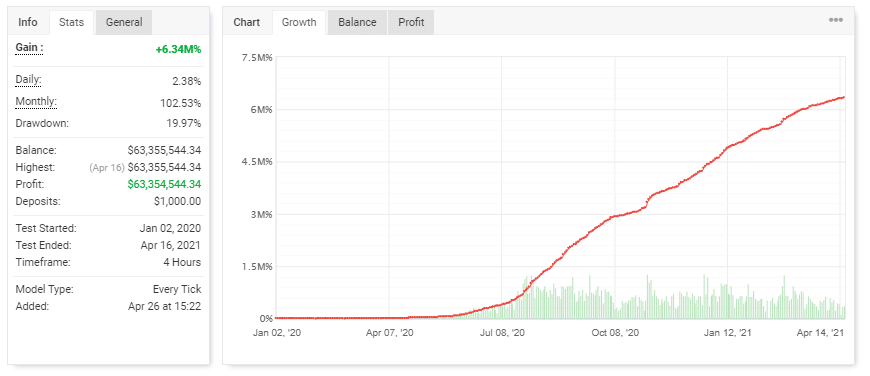 High Drawdown
On the worst day, the robot was down -37.1% in equity. It means that it nearly wiped off half of the account balance. There is also no stop loss attached to any position. The tracking results on Forex Peace Army are even worse where there is a maximal drawdown of 90.10%. If you had an account of $1000 with 100% Monthly EA, you would have only $100 by the end of such a loss.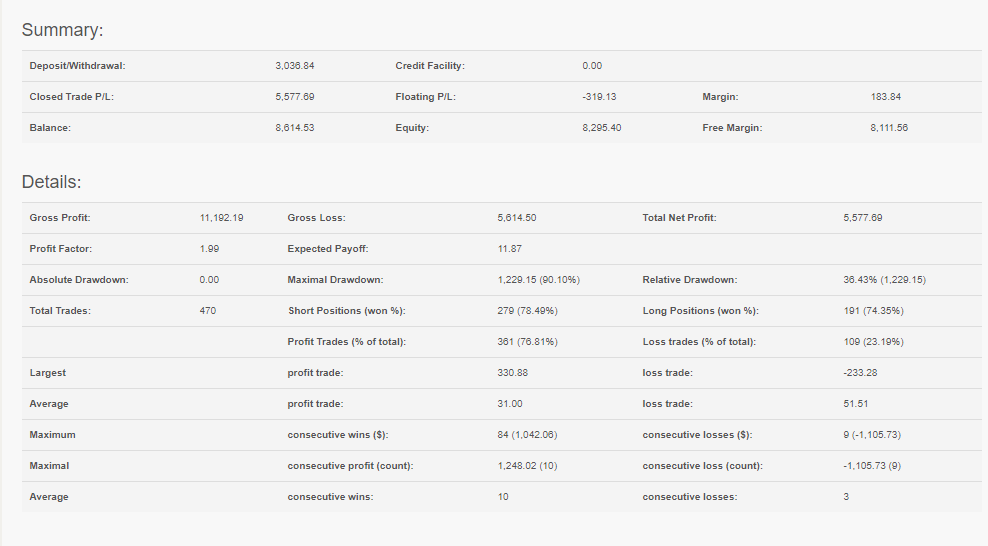 Customer Reviews
There are only two reviews available on Forex Peace Army. A reviewer states and complains about the significant drawdown that occurs during trading. No customer reviews predict that the algorithm was recently introduced in the market by the developer.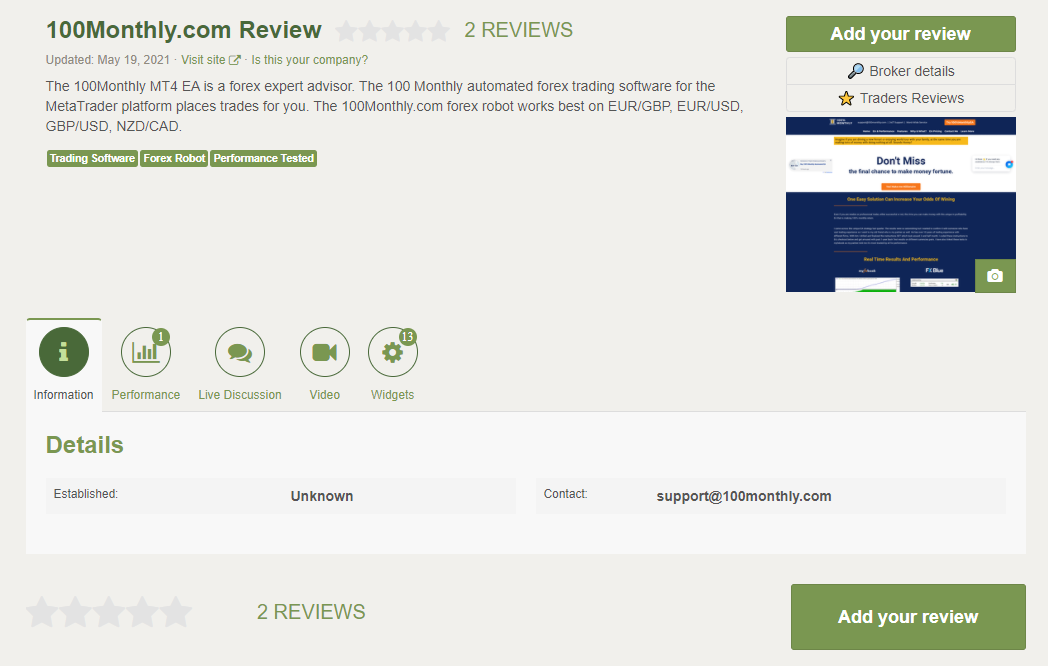 Vendor Transparency
There is no information on who is the real developer of the robot. We are left at the mercy of an unknown person after making the payment for the system. It can be a hoax where you might not receive the product and get robbed of your money.